Challonge Premier
Hide ads + Support us
Close this ad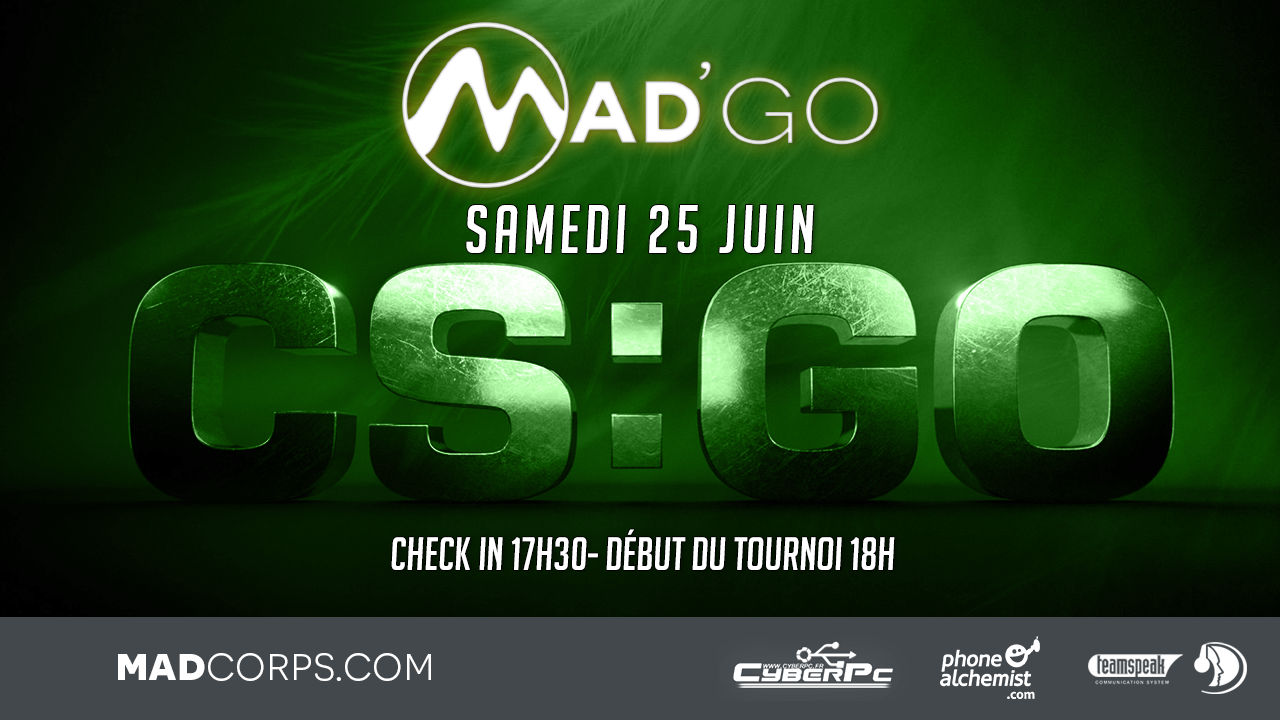 Règlement et sanctions
En participant aux tournois organisés par MadCorps, les joueurs s'engagent à tout mettre en œuvre pour appliquer ce règlement.
Les officiels se réservent le droit de prendre des décisions sur des points non-couvert par le règlement.
Présence ts/irc
Pour le bon déroulement de la compétition, une présence est requise sur le teamspeak ou l'irc.
TS mis à disposition : ts.madcorps.com « Chan : Mad'League »
IRC : « Cliquez-ici »
Screenshots
Il est primordial de prendre des screenshots à la fin chaque match. En cas de désaccord avec les participants, un officiel jugera au vu de ces screenshots.
Retard et pause

Une équipe en retard de plus 15 min sera disqualifiée.

Deux pauses d'un maximum de 2 min seront tolérées, le match devra reprendre obligatoirement à la fin du temps autorisé afin de ne pas ralentir l'avancé du tournoi.

Une pause de 5min pourra être demandée lors des changements de camps.
Format de match
Le tournoi se déroulera en « Best Of 1 » jusqu'en demi-finale. La finale sera en « Best Of 3 ».
Le gagnant du match sera la première équipe à atteindre 16 points.
Choix de la Map
Version du VETO : ABBAAB
L'équipe "A" sera toujours celle du dessus dans l'arbre du tournoi.
Donc, l'équipe "A" supprime 1 map, l'équipe "B" 2 maps, l'équipe "A" 2 maps, l'équipe "B" 1 map, la map restante sera donc la map jouée.
La sélection des maps se trouve ci dessous :
-de_dust2
-de_nuke
-de_train
-de_cobblestone
-de_mirage
-de_cache
-de_overpass
Choix du camp
Les camps où commenceront les deux équipes seront déterminés lors d'un round au couteau.
Lancement du match
Le tournoi débutera à l'heure indiquée par les officiels.
Interruption du match

Si un match est involontairement interrompu, les officiels se donnent le droit de recommencer le match ou de donner la victoire.
Arrêt du match
Si un match est interrompu volontairement, les officiels se donnent le droit de donner la victoire du « Best of ».
Exploitation de bugs ou hacking
Il n'est pas autorisé d'utiliser intentionnellement tout exploitation de bug afin d'obtenir un avantage quelconque. Les officiels auront toute autorité afin de déterminer l'intention et l'ampleur d'une telle infraction ainsi que la pénalité encourue.
Le hacking, sous toutes ses formes, est considéré comme une infraction des règles du jeu et sera sanctionné par une disqualification immédiate. Le hacking comprend les map hacks, unit hacks ou tout autre programme tiers n'étant pas autorisé par le personnel officiel.
Validation des résulats

À la fin d'un « Best of », les équipes doivent impérativement déclarer leurs résultats soit sur l'irc soit sur le ts à un des officiels pour le bon déroulement du tournoi.
Show Full Description
Final Results
| | |
| --- | --- |
| Supreme Champion: | VAC4LYFE |
| Worthy Adversary: | Mellite |